MINDBODY HEALING SESSIONS
s
Although trained as a traditional physical therapist, my integrative approach + treatments are anything but traditional.
I offer holistic mindbody healing sessions to release stored physical + emotional blocks held within your tissues to allow your body to come into balance, improve alignment, reduce nervous system stress, and move with greater ease.
The work is facilitated via Craniosacral therapy, myofascial energy release, chakra balancing and other intuitive healing modalities to guide your body in a gentle letting go to create space.
Empowered by self-treatment + mindful movement strategies — as well as knowledge about your unique individual body — all with the goal to help you feel your absolute best in your body.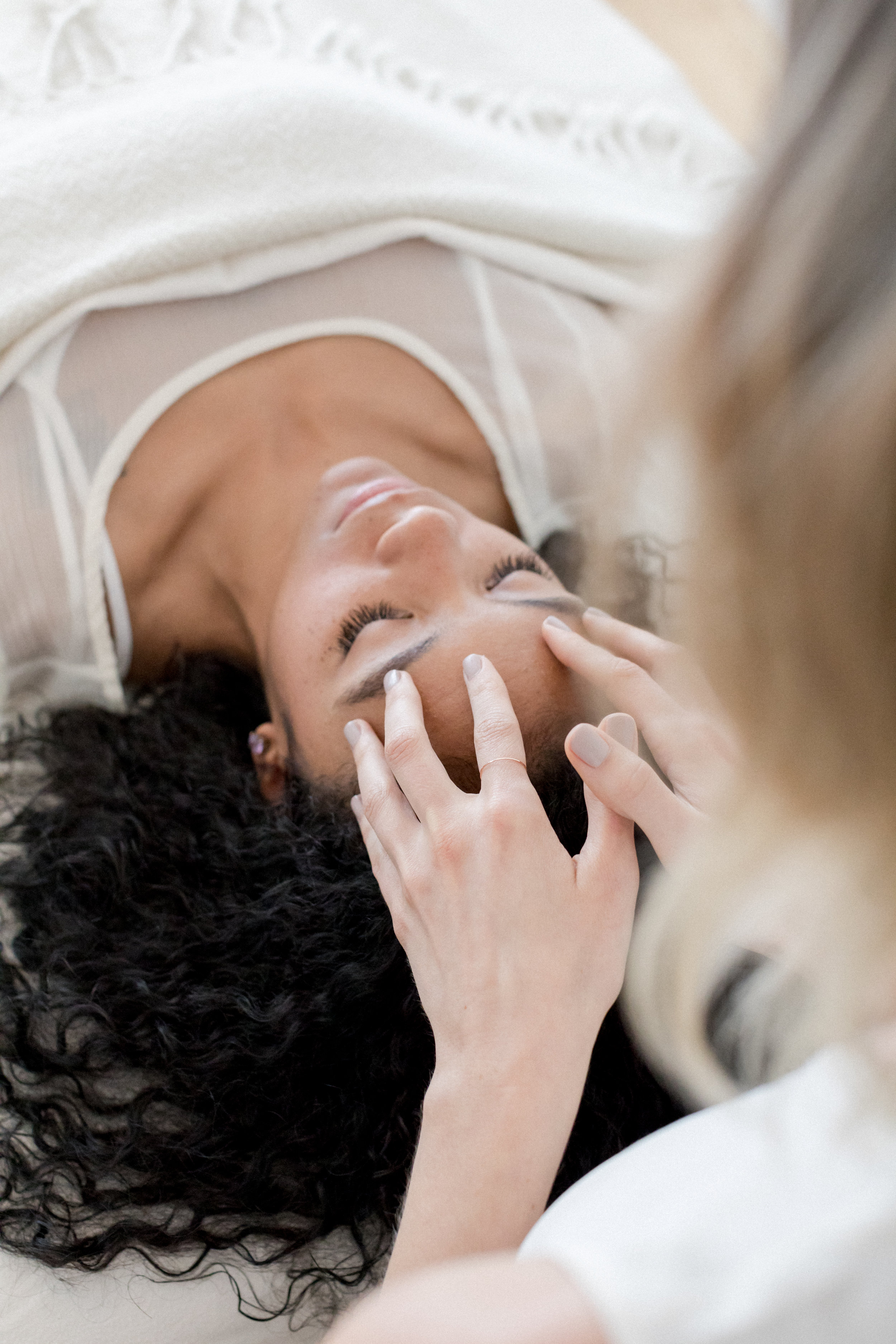 All initial wellness sessions begin with an assessment of alignment, neuromuscular connection, and CranioSacral rhythm. Then through energetic and bodywork techniques I facilitate the gentle release of blocks, beginning with the most prominent. You will leave empowered in knowledge about your body — how to hold it, move it, which muscles to stretch or strengthen, supportive strategies to correct energetic imbalances,and self-treatment for peak results.
* Expect to notice improvements initially, but will require 6 sessions on average to achieve the most beneficial results. Since you will continue to use your body daily, I recommend a maintenance session every 2-3 months, based on each individual's needs.
FOR EVERY WOMAN
Many women are unaware that they might be carrying muscle imbalances, misalignment in their pelvis or stored trauma in tissues surrounding their reproductive organs. The IN+FORM process allows for deep fascial release and realignment to restore health and balance to your reproductive system, whether you're planning to become pregnant, or not. It is especially beneficial, however, in planning for pregnancy.
DURING PREGNANCY + POSTPARTUM
During pregnancy, women experience many changes in their bodies, especially in the musculoskeletal system. The body actually recognizes these changes as trauma and stores them as it's growing and changing.
Post pregnancy, the IN+FORM process is deeply beneficial to release body registered trauma from changes in pregnancy, giving birth, and coming back into your new body.
IN-PERSON VS. REMOTE SESSIONS
IN-PERSON — 60 min. Receive at WMN Space in Culver City. Able to perform more in-depth assessment of alignment + neuromuscular activation.
REMOTE — 45 min. Receive anywhere in the world. Focus on physical, emotional, + energetic releases. A deep, powerful release that's available on the go! Optional phone call to start the session or you can just lie down + receive the treatment.
Learn the most beneficial set of daily tools + tips from nearly a decade of working with patients + clients in treating pain.
"So grateful to receive the most nourishing body work & CranioSacral therapy by (Jenny) this morning that put me into the deepest trance. Can't recommend this enough, especially for new mamas."
"Two weeks ago I had my first remote wellness session with Jenny Wirt, MPT. I was a little skeptical at first how someone could work on me if they are several hundred miles away. Truthfully, it was one of the best sessions I've haf to date with a body worker even without having her physical touch. I can't tell you howintuitive this woman is. I highly recommend he services if you are looking to deepen your WHOLE body wellness journey. I felt a huge release after she worked on me."
"Thank you for this absolute goldmine of info! I'm doing really well. I went to my Chiropractor yesterday (I usually go once a week or so) and he didn't really have anything to fix, which is a first. I've been doing all of the exercises and think they're helping to maintain the adjustments you made. Also, I stand up quite a bit at work so I've been engaging my glutes more and it's taken a lot of pressure out of my lower back, which feels great."
- Jill G.
"Feeling extra [grateful] after having a session with Jenny of IN+FORM this morning. She is AMAZING and does distance healing as well. so much good info and she has a lovely energy. She's super intuitive too! Highly recommend."